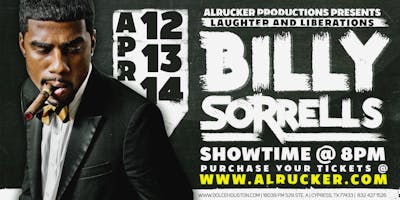 Laughter and Liberations Presents Billy Sorrels
Billy Sorrells is an American comedian, actor, and filmmaker who is one of the new recurring cast members of Season 8 of Wild 'N Out on MTV. He has also appeared in shows as According To Him + Her, Funniest Wins, Love & Hip Hop.
"Comedy can change the World because it can change people"
I think its so cool that you can pick up the mic and create something that didn't exist 5 minutes ago. You can saysomething that changes peoples hearts and minds through laughter.