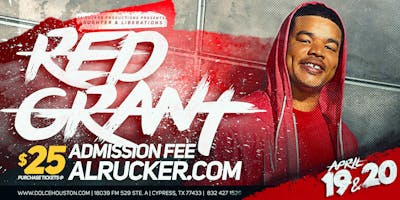 Laughter and Liberations Presents Red Grant
Red Grant is an African-American comedian, actor and producer. He has appeared in numerous television shows and films, and is also a touring stand-up comedian.

Grant has performed his comedy in several television shows, including HBO's Def Comedy Jam, NBC's Later, MTV's Snaps, and BET's ComicView, where his last appearance registered the most viewers for the 2006 season. His first television appearance, however, was the 1995 special Showtime at the Apollo. He has also won different awards for his comedy.

Grant is also involved in producing films. His first production was the 1999 comedy The Breaks, where he also appears. Also under his belt are Ghetto Fabulous, Leprechaun in the Hood, The Watermelon Heist, So Fresh, So Clean… a Down and Dirty Comedy, The University Player, The Last Stand, and First Sunday. He has also produced and sold hundreds of thousands of his DVDs through his production company, Movieos.net. He is also set to appear in the Comedy Central reality series Reality Bites Back.